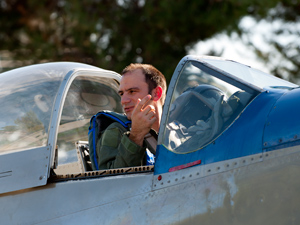 If you look back at my childhood and see that my first non-commercial airplane ride was in a P-51, you would realize why I'm so in love with aviation.
While my first passion will always be aviation and flying, I also enjoy photography. I began taking photos after I stole my father's Pentax ME Super as a kid. Growing up, I would travel to quite a few west coast airshows with my family and snap away.
I have been published in magazines and publications such as: Flying, EAA Sport Aviation, Inflight, Warbird Digest, Robb Report, Trade-a-Plane, Fly/RC, Model Airplane News, and Model Aviation. Companies like Lancair, Hartzell, Pilotsguide, and Horizon Hobby have also used my photography for promotional purposes.
When I'm not taking photos, I can be found flying. I hold a PPL SEL, SES, and have been lucky enough to log time in such airplanes as the P-51, AT-6, Stearman, L-39 and Pitts S-2C. My brother and I also own a 1975 Citabria 7GCBC and 1970 Cessna 182. Most of my time is tailwheel and I haven't found a better type of flying. I've been fortunate to spend time learning from some great pilots whom I'd admire, teaching me aerobatics, formation flying, and most importantly how to be safe. I carry this knowledge into each and every air-to-air shoot to ensure it goes off without a hitch - and safely.

I shoot Nikon cameras and currenty use D3 bodies, along with a plethora of lenses.
I'm also a member of the following organizations: California Warbirds, Experimental Aircraft Association, Aircraft Owner and Pilots Association, International Society for Aviation Photography, Academy of Model Aeronautics, Santa Clara County Model Aircraft Skypark, National Air Race Group, and the Society of Air Race Photographers.

Please feel free to email with me any comments or suggestions and enjoy the site.
Thanks,
Chris